Welcome...
The time has come for the last shop in my 'Hipster's Paradise' feature, where I look at
Pea Pod
(144 Rosemount Place AB25 2YU), owned by Angie and Claire. Pea Pod is a fairly small shop but has a lot to offer, providing a wide variation of unique individual items. I had a chat with Angie and, again, got a bit excited taking pictures of everything shiny, furry and simply beautiful!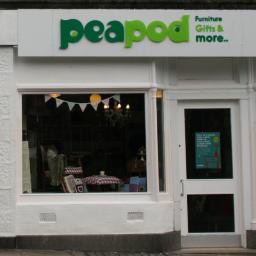 Angie and Claire are two lovely ladies who once worked together in Topshop and have been friends since. A few years ago, in Torry, Aberdeen, Claire entered and won a competition where she was provided with start-up funding for her vintage furniture store business plan. As their family's grew Claire and Angie got together and decided to buy what used to be a butcher shop on Rosemount Place and turn it into a vintage boutique, allowing them to both work around family whilst still doing what they love.

"Something interesting crazy happens every day!"
The lovely Angie- an owner of Pea Pod

The pair sell a range of items from clothing to furniture to animal horns.. yes, animal horns!
Angie tells me she's always been into fashion and used to spend her student days rummaging through all the vintage store that were once all over Aberdeen.
A couple of my favourites
I have to say that the best thing about small, independent retailers like Pea Pod, Retrospect and The Closet is the personal vibe of the store. The owner usually works in store and all staff are friendly and passionate about what they do. You don't just grow fond of the products but the people there and the retailer as a whole.
Hope you've enjoyed these posts over the past few weeks. I'll be putting up a tiny post about my work at the Cancer Research store later on this week, but that's enough from me for today. Don't forget to follow my blog with Google+,
Bloglovin
or
Facebook
.
Stay Beautiful